To use this sharing feature on social networks you must
accept cookies
from the 'Marketing' category
Corso online - Gestire le emozioni - 20 minuti
Corso online di formazione su come riconoscere e padroneggiare le proprie emozioni.
---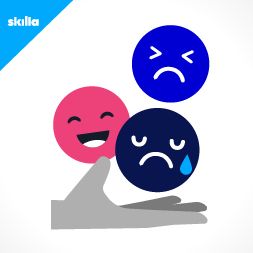 Course details
| | |
| --- | --- |
| Evaluation: | 0 out of 5 |
| Rating: | 0% |
| Reviews: | 0 |
| Category: | Competenze personali |
| Code: | ELSK_PL020 |
| Duration in hours: | 20 minuti |
| Accessibility: | 30 giorni entro il 01/01/2030 |
---
Metodologia del corso
Corso in modalità e-learning, che potrà essere fruito online in modalità asincrona (in qualsiasi momento del giorno, 24 ore su 24, 7 giorni alla settimana).
Perché questo corso online in e-Learning Gestire le emozioni - 20 minuti
Ti capita a volte di sentirti sopraffatto dalle emozioni? Di sentirti, ad esempio impaurito, bloccato di fronte ad un compito difficile da affrontare? Di esplodere per la rabbia? Di avere la sensazione che tutto andrà male?
Questo corso ti darà alcuni consigli utili per riconoscere le diverse emozioni e canalizzarle verso il raggiungimento degli obiettivi.
Con questo corso ti allenerai a:
riconoscere e controllare le principali emozioni;
trarne vantaggio;
contenere lo stress emotivo.
I prodotti multimediali sono realizzati da Skilla - Amicucci Formazione Srl. La distribuzione del prodotto è regolata da un accordo tra Amicucci Formazione Srl e il rivenditore.
Corsi della categoria "Gestire le relazioni"
Elenco dei corsi che approfondiscono il tema "Gestire le relazioni":
"Entrare in sintonia con gli altri" codice corso ELSK_PL017;
"Comprensione pro relazione" codice corso ELSK_PL018;
"La percezione nelle relazioni" codice corso ELSK_PL019;
"Gestire le emozioni" codice corso ELSK_PL020.
Durata
Il corso ha una durata indicativa e la fruizione dei contenuti è libera.
Autovalutazione dell'apprendimento
Al termine del corso non è previsto un test di valutazione dell'apprendimento.
Possono essere presenti esercitazioni per l'autovalutazione dell'apprendimento.
Al termine del corso è obbligatoria la compilazione di un questionario di gradimento.
Periodo di validità
I corsi e-learning prevedono una durata predeterminata al momento dell'acquisto.
Attestato
Alla conclusione del corso, è consegnato un attestato numerato progressivamente dell'avvenuta formazione.
Soggetto formatore
Mega Italia Media S.p.A., Via Roncadelle 70A, Castel Mella (BS)
Responsabile del progetto formativo: Luigi Meroni
Copyright
*Copyright © 2021 All rights reserved Amicucci Formazione Srl - Civitanova Marche. Il logo di Skilla - Amicucci Formazione, presente nel prodotto che viene consegnato, attesta che il prodotto stesso è stato sviluppato da Amicucci Formazione Srl. Pillola Formativa ® e Pillola multimediale ® sono marchi depositati da Amicucci Formazione sin dal 2008 e registrati in Italia nel 2010 con i Nos. 1353620 e 1347371.
| | |
| --- | --- |
| Number of learning objects in the course: | 1 |
| Number of tests present in the course: | 1 |
| Total Course Duration: | 20 minuti |
| Validity of attestation: | 3 anni |
---
Customer Comments:
No comment available.