To use this sharing feature on social networks you must
accept cookies
from the 'Marketing' category
Corso online - Il team di progetto - 10 minuti
Corso online di formazione su come costruire un team efficiente ed efficace.
---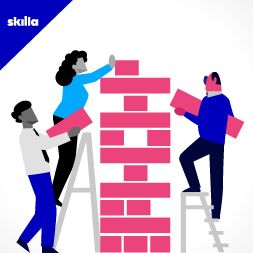 Course details
| | |
| --- | --- |
| Evaluation: | 0 out of 5 |
| Rating: | 0% |
| Reviews: | 0 |
| Category: | Management |
| Code: | ELSK_PL007 |
| Duration in hours: | 10 minuti |
| Accessibility: | 30 giorni entro il 01/01/2030 |
---
Metodologia del corso
Corso in modalità e-learning, che potrà essere fruito online in modalità asincrona (in qualsiasi momento del giorno, 24 ore su 24, 7 giorni alla settimana).
Perché questo corso online in e-Learning Il team di progetto - 10 minuti
"Tocca fare tutto a me! Quando c'è un'urgenza tutti scappano da una parte e dall'altra e io rimango con tutto il carico della situazione."
"Il capo non si rende conto che dobbiamo rispettare tempi tecnici e che non è possibile andare più veloci."
"Avremmo bisogno di altri due giorni per fare il collaudo ma quelli del marketing vogliono subito una soluzione qualsiasi per la loro presentazione."
Queste situazioni ti suonano familiari?
Con questo corso imparerai che un progetto non può funzionare se non è realizzato da uno o più team motivati a raggiungere lo stesso obiettivo, vedrai come gestire un team e come lavorare all'interno di esso.
Con questo corso ti allenerai a:
gestire un team;
lavorare in team.
I contenuti di questo corso sono stati realizzati da Skilla.
Corsi della categoria "Gestione dei progetti"
Elenco dei corsi che approfondiscono il tema "Gestione dei progetti":
Parte 1

"Che cos'è un progetto?" codice corso ELSK_PL001
"La gestione per processi" codice corso ELSK_PL002
"Lavorare per progetti" codice corso ELSK_PL003
"Strumenti per la gestione di un progetto" codice corso ELSK_PL004

Parte 2

"Il ciclo di vita del progetto" codice corso ELSK_PL005
"I tranelli del progetto" codice corso ELSK_PL006
"Il team di progetto" codice corso ELSK_PL007
Durata
Il corso ha una durata indicativa e la fruizione dei contenuti è libera.
Autovalutazione dell'apprendimento
Al termine del corso non è previsto un test di valutazione dell'apprendimento.
Possono essere presenti esercitazioni per l'autovalutazione dell'apprendimento.
Al termine del corso è obbligatoria la compilazione di un questionario di gradimento.
Periodo di validità
I corsi e-learning prevedono una durata predeterminata al momento dell'acquisto.
Attestato
Alla conclusione del corso, è consegnato un attestato numerato progressivamente dell'avvenuta formazione.
Soggetto formatore
Mega Italia Media S.p.A., Via Roncadelle 70A, Castel Mella (BS)
Responsabile del progetto formativo: Luigi Meroni
| | |
| --- | --- |
| Number of learning objects in the course: | 1 |
| Number of tests present in the course: | 1 |
| Total Course Duration: | 10 minuti |
| Validity of attestation: | 3 anni |
---
Customer Comments:
No comment available.