To use this sharing feature on social networks you must
accept cookies
from the 'Marketing' category
Corso online - Decision Making - 20 minuti
Corso online di formazione su come saper decidere, per risolvere i problemi con rapidità ed efficacia.
---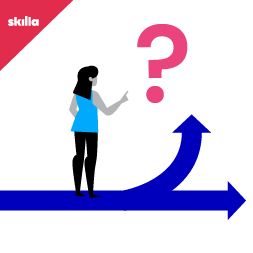 Course details
| | |
| --- | --- |
| Evaluation: | 0 out of 5 |
| Rating: | 0% |
| Reviews: | 0 |
| Category: | Management |
| Code: | ELSK_PL034 |
| Duration in hours: | 20 minuti |
| Accessibility: | 30 giorni entro il 01/01/2030 |
---
Metodologia del corso
Corso in modalità e-learning, che potrà essere fruito online in modalità asincrona (in qualsiasi momento del giorno, 24 ore su 24, 7 giorni alla settimana).
Perché questo corso online in e-Learning Decision Making - 20 minuti
Ti è mai successo di "non sapere che pesci prendere"? Di non riuscire a scegliere fra alternative che ti sembrano tutte valide? Di non voler prendere una decisione per paura di sbagliare? Di scaricare sugli altri la responsabilità di una tua scelta?
Scopri come decidere presto e bene.
Con questo corso ti allenerai a:
valutare e confrontare le varie soluzioni;
prendere la decisione giusta;
vivere con serenità il problem solving;
applicare ogni decisione presa.
I prodotti multimediali sono realizzati da Skilla - Amicucci Formazione Srl. La distribuzione del prodotto è regolata da un accordo tra Amicucci Formazione Srl e il rivenditore.
Corsi della categoria "Coordinare/condurre una squadra/team di lavoro"
Elenco dei corsi che approfondiscono il tema "Coordinare/condurre una squadra/team di lavoro":
"Le carte di una squadra vincente" codice corso ELSK_PL031
"Gestione dei ruoli" codice corso ELSK_PL032
"Il Manager Coach" codice corso ELSK_PL033
"Decision Making" codice corso ELSK_PL034
Durata
Il corso ha una durata indicativa e la fruizione dei contenuti è libera.
Autovalutazione dell'apprendimento
Al termine del corso non è previsto un test di valutazione dell'apprendimento.
Possono essere presenti esercitazioni per l'autovalutazione dell'apprendimento.
Al termine del corso è obbligatoria la compilazione di un questionario di gradimento.
Periodo di validità
I corsi e-learning prevedono una durata predeterminata al momento dell'acquisto.
Attestato
Alla conclusione del corso, è consegnato un attestato numerato progressivamente dell'avvenuta formazione.
Soggetto formatore
Mega Italia Media S.p.A., Via Roncadelle 70A, Castel Mella (BS)
Responsabile del progetto formativo: Luigi Meroni
Copyright
*Copyright © 2021 All rights reserved Amicucci Formazione Srl - Civitanova Marche. Il logo di Skilla - Amicucci Formazione, presente nel prodotto che viene consegnato, attesta che il prodotto stesso è stato sviluppato da Amicucci Formazione Srl. Pillola Formativa ® e Pillola multimediale ® sono marchi depositati da Amicucci Formazione sin dal 2008 e registrati in Italia nel 2010 con i Nos. 1353620 e 1347371.
| | |
| --- | --- |
| Number of learning objects in the course: | 1 |
| Number of tests present in the course: | 1 |
| Total Course Duration: | 20 minuti |
| Validity of attestation: | 3 anni |
---
Customer Comments:
No comment available.